10. Queen of the Willis gets canceled… TWICE
Queen of the Willis is the first canceled program since Family Guy to be resurrected because of its strong rerun ratings.


Queen of the Willis is integrated in the minds of so many fans as one of the great animated comedy-dramas in history, but it wasn't always viewed this way. After the first season of the show in November 2006, ATE Media decided to cancel Queen of the Willis. It was due to college football preemptions.

In January 2007, NoSirGifts Fantasy Television Stations picked up the show from ATE Media and moved the show from ATE Media-owned ABC affiliates to its many Fox (their Milwaukee and Central Ohio stations have since switched back to ABC in 2012), NBC, and CBS affiliates, and independent stations (NoSirGifts' San Francisco, Denver, and Norfolk stations have respectively since switched to CBS in 2015, NBC in 2015, and ABC in 2016), it was constantly pre-empted due to sports overruns.

In the 10 markets shown on a NoSirGifts-owned Fox affiliate (WLIN-FTV "12WLIN" Lafayette, IN; WHAR-FTV "Fox 13 WHAR" Madison, WI; KXXX-FTV "KXXX 8" Austin, Texas; KBYF-FTV "Fox 2" San Francisco; WNNV-FTV "WNNV 10" Norfolk; KDNC-FTV "Colorado's Fox 2" Denver; KFMN-FTV "KFMN 5" Minneapolis, WNCW-FTV "Fox 12" Greensboro/High Point/Winston-Salem; WXTN-FTV "Fox 6" Nashville; and WEMN-FTV "Fox 4 Alabama" Birmingham) Queen of the Willis was the No. 3 show behind Wheel of Fortune and Jeopardy. Meanwhile on NoSirGifts-owned independent stations: WXXC-FDT "INNCD 47" Fort Wayne; WMEL-FTV "MEL 45" Chattanooga; WAZN-FDT "FLNCD 42" Miami; WPN-FTV "PNNS 57" Pittsburgh; WIHR-FTV Chicago, KEMN-FTV "TXNCD 28" Houston and at the time, KBYF-FTV "KLSF29" (nka CBS 29) San Francisco (now a CBS affiliate), KZCO-FTV "Z-24" (nka NBC 24) Denver (now an NBC affiliate), and "HRNCD 43" (nka ABC 43) Norfolk (now an ABC affiliate), Queen of the Willis reruns was the No. 1 show on the station while in other markets like Indianapolis, Charlotte, Dallas, Jacksonville, Orlando, Tampa the show was moved the time slots around and never alerted fans of the show and overall ratings fell by the fifth and sixth seasons. On June 30, 2012, the show was canceled by NoSirGifts and many thought that this was the end. Overall ratings was not the factor, but the North American derencho on June 29, 2012 was the prime reason Queen of the Willis was canceled for the second time.
Queen of the Willis revival happened, in large part, due to reruns airing on CW, MyNetwork TV, and independent stations owned by NoSirGifts, from 2012 until 2018. The rights were purchased by NoSirGifts for virtually nothing and aired the first six seasons during its hiatus from 2012 to 2018. The show dominated on those stations.

In 2018, United Broadcasting's Denver (KIAA-FTV "9 News"), Indianapolis (WEVI-FTV "News 4"), and Miami (WMIA "7 News") stations picked up the show from NoSirGifts stations as well as taking over syndication rights from NoSirGifts. Indianapolis and Miami CW affiliates WEVI and WMIA respectively became the third station to air Queen of the Willis after ATE Media-owned (now ABC O&O) WHOO and WCBM in 2006 and NoSirGifts-owned CBS affiliates WIFX and WFSF from 2007 to 2012 while Denver CW affiliate KIAA became the second station in Denver to air the show after NoSirGifts-owned Fox affiliate KDNC from 2006-2012.

QOTW's seventh season is slated to air in 2019.
9. Animated Rivalries
Queen of the Willis has found beef with King of the Hill and Family Guy. Coincidentally, many of the characters on Queen of the Willis are loyal fans of Indiana's NFL team, the Indianapolis Colts (aka Indiana Colts).

Queen of the Willis and Family Guy's rivalry can be traced to the Colts' former American Football Conference (AFC) East rival, the New England Patriots, and Queen of the Willis' rivalry with King of the Hill can be traced to the Colts' current AFC South rival, the Houston Texans.

Coincidentally, in the King of the Hill episode "Queasy Rider", Hank Hill's mention of an all-Texas Super Bowl between the Texans and National Football Conference (NFC)'s Dallas Cowboys has not become a reality. In the season Queen of the Willis premiered, Ava Willis mentioned the all-Indiana Super Bowl of the Indianapolis/Indiana Colts and the NFC's Chicago Bears in Super Bowl XLI.

8. Heather Willis IS Ava Zinn
Many people know (or will now know) that Ava Zinn uses her normal speaking voice when she voices the character Heather Willis. Although Heather was born a girl and Ava Zinn is a transwoman, the two share more than just a similar way of speaking.
Heather, along with Ava Willis, are positioned as the voice of reason in the Willis family and Zinn's own voice and comments come through the character of the family lobster. Many of Heather's left-leaning political views and her rationality are similar to the way Zinn herself thinks.
Zinn, though doesn't give Heather any special treatment although Heather is a female character voiced by a transgendered woman. Heather is often the butt of the joke, and her pompus attitude and tendencies are made fun of in many episodes.
Heather serves as the voice of the Queen of the Willis audience in many cases, and it makes sense the most reliable character is based on the primary creator of the show.
7. Tabby Willis' sex change
Queen of the Willis' main characters are a transgender female manager of a retailer, a transfemale sex reassignment surgeon, female police officers, or news anchorwomen—all Indiana LGBT, it is no surprise a character would change genders.
After Queen of the Willis returned in 2019, the male dog, Rags, transitions to female known as Tabby Willis. In fact, Tabby's full name was changed from Timothy Rags Willis to Tabitha Andrea Willis. Additionally, Tabby becomes obese. It is also revealed that the transfemale sex reassignment surgeon, Melissa Rose, performed Tabby's sex change surgery.
6. The Original voices of Angie Willis, Tom Willis, Deanna Willis and Melissa Rose

Tom Willis is one of four Queen of the Willis characters to have had two different voice actors. Prior to Tom's death in "Quillsville Cold Case", Tom had two different voice actors and in contrast to Tom's unpopularity and the fact he was a transgendered male, the guys who have played him are all handsome. In the first season, Ava and Angie's late transgendered son, Tom Willis, was voiced by Pauly Shore, of who you may recognize from the movie Bio-Dome, before Leonard Lai took over the role in the second season.

Angie Willis is the second of four characters in Queen of the Willis to have her voice actress change over the series. Angie Willis was originally voiced by the late co-creator Holly Everman, who most people know her as the sidekick to Ava Zinn and long-time co-host on "Vote for the Girls" from 2010 to 2017. Everman voiced Angie Willis for the first six seasons and her voice actress died five years after the sixth season ended.

Starting in the seventh season premiere episode "Ten Years to Life", Angie Willis will be voiced by Karly Jameson.
Deanna Willis is a third character to have her voice actress changed. Deanna Willis was originally voiced by Candis Cayne, who most people know for her role as Carmelita on "Dirty Sexy Money". She voiced Deanna Willis but Cayne reportedly never intended to stay on the show and was replaced by Rachael Passalt as of season 3.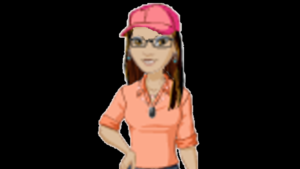 Melissa Rose is a fourth character to have her voice actress changed. She was originally voiced by the late Alexis Arquette, who most people know as one of the members of the famous Arquette family. Arquette voiced Melissa Rose. After Alexis Arquette died on 9/11/2016, Kendra Ray auditioned for the role of Melissa Rose rather than have the character killed off.
5. Frank's Life/Frank & Brittani comic strip and Amanda & Elisa
Ava Zinn, prior to her gender transition in 2004, didn't just luck out into animation and voice acting. During her middle and high school years, Zinn (then known as Frank) created a cartoon comic strip that can be seen as the foundation on which Queen of the Willis was built. She wrote, animated, and voiced acted her cartoon based on the comic strip, entitled Frank's Life, which dealt many of the themes that can be seen in the general plot of Queen of the Willis. The inspiration for Queen of the Willis can be seen in her early work as well as Amanda & Elisa. Amanda & Elisa was also created by Ava Zinn.
One of the main characters of Frank's Life/Frank & Brittani is a talking goldfish who serves as the voice of reason, much like the lobster Heather does in Queen of the Willis. Another character of Amanda & Elisa is the neighbour Claudia Zinn-Davidson (later revealed to be Peggy Willis' niece), who sounds as another voice of reason, much like the Ava Zinn character.
In fact, Ava, Angie, and Heather are derived from the main characters in a short that Ava Zinn developed for ATE Media in 2000 as a sequel to Frank's Life titled "Frank & Brittani".
4. Ava and Angie Willis
The voices of Ava and Angie are respectively based on classmates at their respective high school alma matters: Ava Zinn at Mississinewa High School and Holly Everman at Muncie Central High School.
3. Laura Bakula or Melinda Long as Heather Willis?
While Melinda Long is former anchorwoman as well as the late Laura Bakula, envisioning either one of them as the voice of reason in the frantic household that is Queen of the Willis is a bit strange. Their voices just doesn't fit as well as the monotone, sarcastic voice of Ava Zinn, and many fans are happy that things worked out the way they did.
Melinda Long and Laura Bakula auditioned for the role of Heather Willis, and if it were not for budget constraints, Melinda Long would have likely gotten the role while Laura Bakula died on September 17, 2006. Some of the punch and testosterone would have been taken out of Heather's character had she been voiced by Melinda Long, and it's difficult to imagine the show's progression with a softer-sounding Heather.
Many of the male and transfemale characters in the show were voiced by Zinn because it was cheaper to do it herself rather than having outside actors. It worked out in the end, as Zinn's voice was cemented among the great transgender voice actresses of our generation.
2. Celebrity Cameos
Many actors, celebrities, and news personalities have made cameos on Queen of the Willis over the years. Josh Kaufman, Alisan Porter, as well as many well known Indiana television personalities and musicians have even come on to play themselves, but some of the most overlooked cameos in all of Queen of the Willis are made by a long-time Fort Wayne TV newsman, Indianapolis newsman, and two former Indianapolis anchorwomen.
1. What the f**k?
Queen of the Willis and Vote for the Girls with Ava Zinn & Alexandra Moffitt are often criticized for the use of profanity and running gags on Queen of the Willis is in nearly every episode, one character says "What the f**k" to another.
For example, in the season 7 four-part episode "The Rape of Heather Willis", there was 222 bleep censors on the broadcast version, with "What the f**k" was said 37 times and f**k was used 149 times.